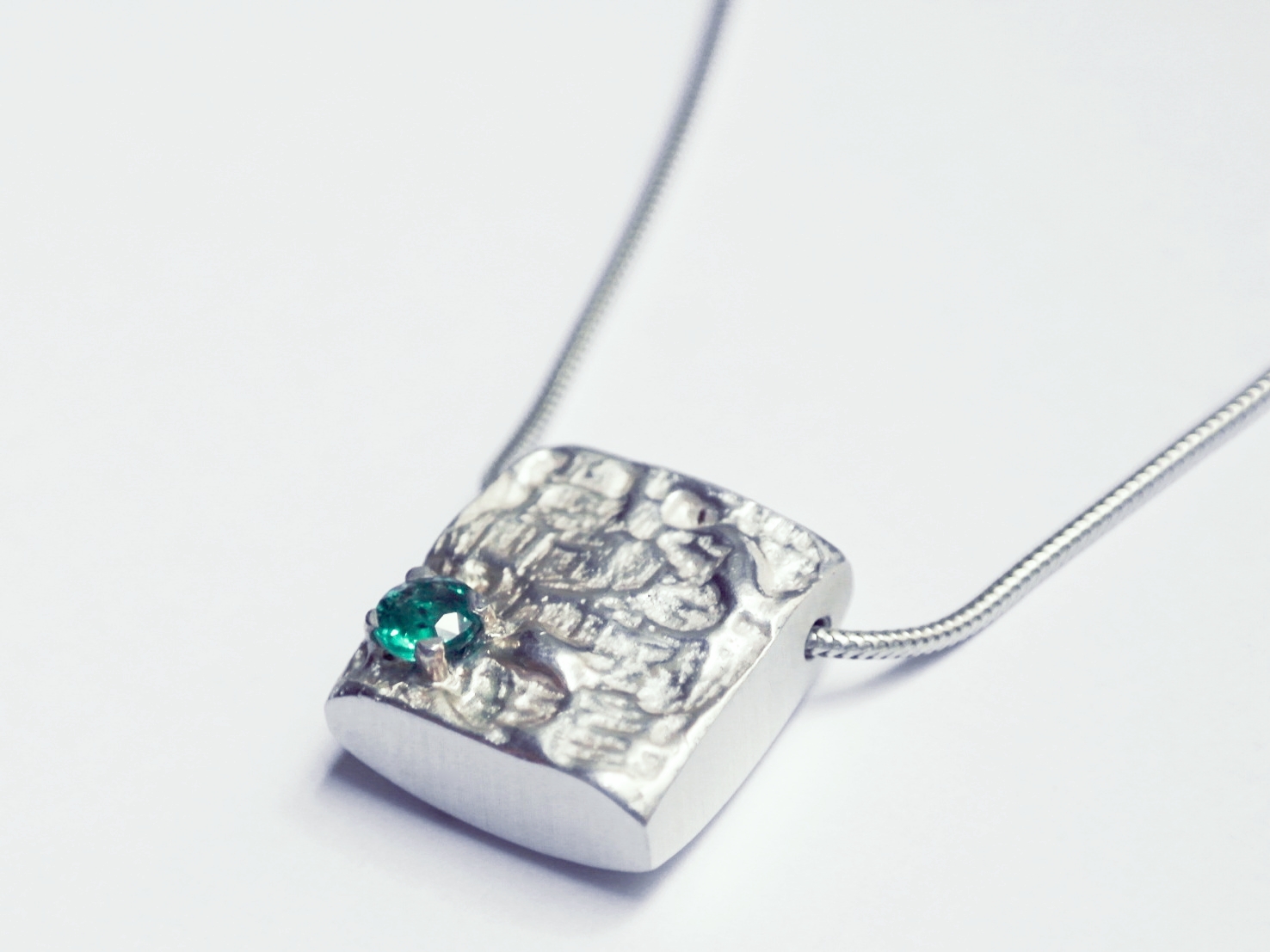 Royal Treasure Ring
Who doesn't want to feel like they are a King or Queen once in a while? This ring looks as if it was found in a pirate's treasure chest. The orb which holds a glowing carnelian and contains a partially hidden 24K gold chamber is placed on a smooth double layered silver band. It is topped off with an extra sparkly yellow sapphire to capture the imagination and detailed with 18K gold. Whether you want to rule a land or imagine you found a cave of treasure, this ring is sure to inspire.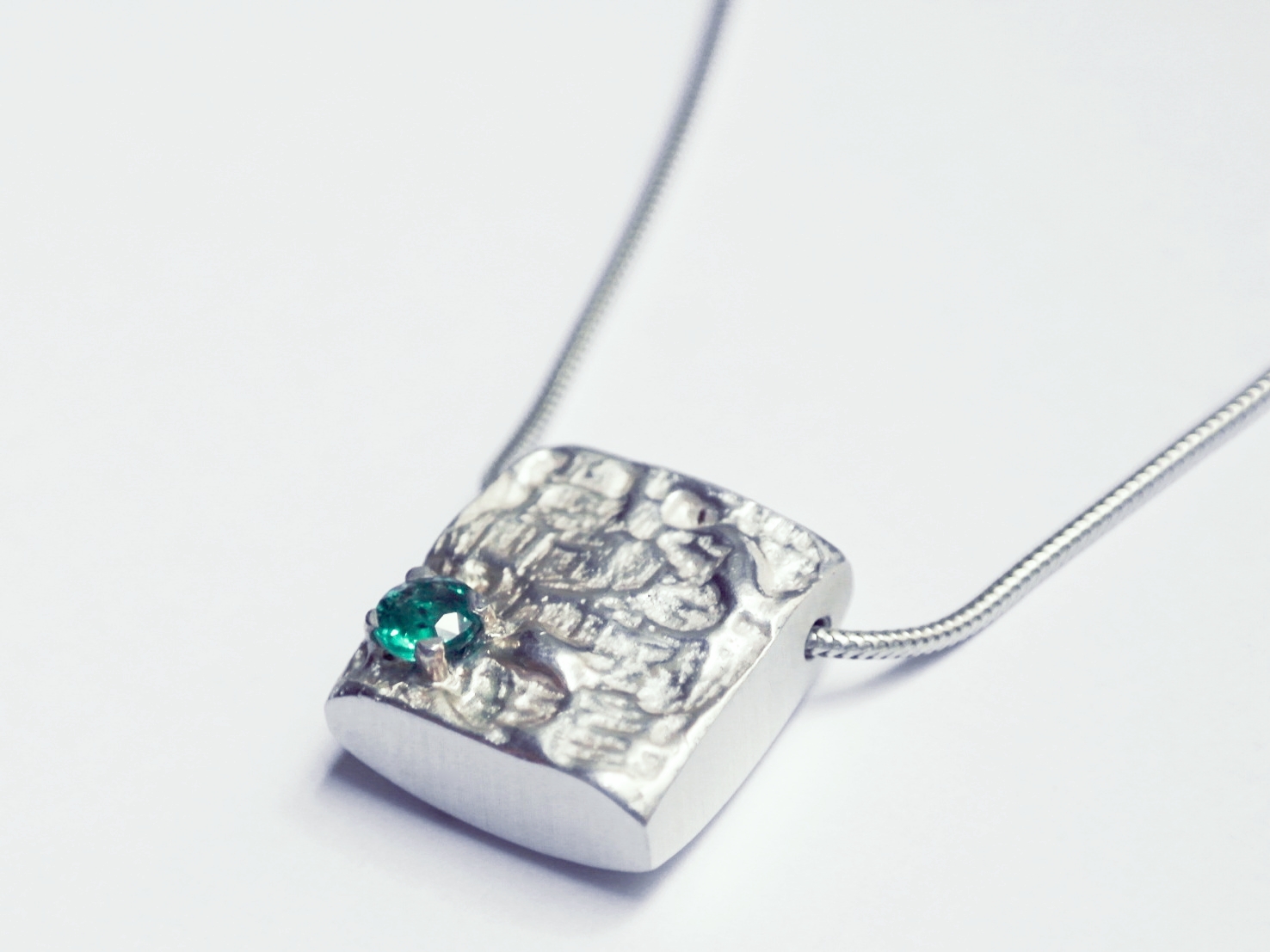 Fine Silver Pendant with Emerald
This gorgeous and flawless emerald was set in a one of a kind organically shaped silver cube with clean and modern finish edges. The gem sparkles against a background of shadow and light formed by molten silver and is contoured by clean matte finish lines. It's complexity is contrasted by a simple and beautiful snake chain.
Shades of Gold Ring
This little masterpiece is one of my favorite designs in yellow, white and rose gold. Three sparkling rubies accent this three tiered ring, the design of which is inspired by Art Deco visions of the future. Ovals and circles in a vertical futuristic design make this a very unique ring that will make any special evening extra special. People will take notice, so make sure you're dressed to the nines.
Rutilated Quartz Necklace
This magnificent 99 karat Quartz gem is naturally filled with golden threads of rutile. This gem deserved a very special setting, which is foldformed out of 99.9% pure silver which has been enhanced with paintlike daubs of 24K gold and patinaed to contrast with the stone and the gold. The effect is that of an organic shape enveloping the gem while letting light shine all the way through. A long strand of blue tiger's eye beads dotted with golden pearls lets one wear it as a gorgeous flapper necklace or a very elegant layered necklace with a magnificent centerpiece. Go ahead, feel like a princess.
Green Sapphire Tension Ring
Green sapphire, who knew? The typically blue gemstone comes in so many beautiful color variations and this multi color green tint is my favorite. This one carat sparkling piece of perfection needed a bold and extroverted setting to show it off. The thick and solid hammered silver polished to a high gloss shine delicately holds into place this uniquely colored gemstone.
Snake Pendant
This whimsical and bold piece is not for the shy. This hand forged pendant has a "snakeskin" texture, a glowing bezel set carnelian at it's heart and fine details like the enamel paint eyes and fine silver tongue. Oxidized to bring out the texture and finished with a soft satin sheen. A wonderful large scale piece like this draws a lot of attention.
Labradorite Cabochon in Silver Ring
Labradorite can be a magical and gorgeous gemstone. If cut and polished right it is full of life with colors, iridescence, stripes and patterns. This beautiful cabochon was set in a simple high bezel on a hammered silver ring. The brushed finish on the silver lets the gemstone shine in it's multi colored glory.
Space Ring
Is it Kryptonite? Is it an alien city? Is it an asteroid? Is it a space ship? This ring will command the attention of anyone who sees it, no matter what it reminds them of. This organic shape was cast in natural materials and cannot be duplicated. It is placed on a simple open ring band to let it speak it's uniqueness. The patina of dark shining silver metal and 24K gold keum boo makes it appear as if it carries the milky way and galaxies within it. Go forth and explore the unknown frontiers of space with this dark and golden ring.
Drusy Quartz Pendant
A piece of jewelry should have personal meaning and this pendant is a perfect example. This one ounce ingot of fine silver was shaped to commemorate a wedding anniversary. The date and initials are stamped into the silver while the piece is embellished by a beautiful black drusy quartz. The play of satin and high gloss finish place the focus on the sparkling gemstone. A heavy, bold and meaningful piece for a loved one.
Elegant Pendant in Gold and Sapphire
Sometimes understated is best for the occasion. This streamlined 18K gold pendant features two tones of blue sapphires. The minimalist style is offset by some asymmetric balancing to keep it flirty and fun. Gold and sapphires, a classic combination in a clean modern setting.